According to the UrbanDictionary "femboy" is a man who prefers presenting himself in a feminine manner, mostly he is under the age of 30 y.o. Do not confuse them with ladyboys and also with cross-dressers. You also do not need to classify them as homosexuals, and in general – you should not think about any of the well-known sexuality types.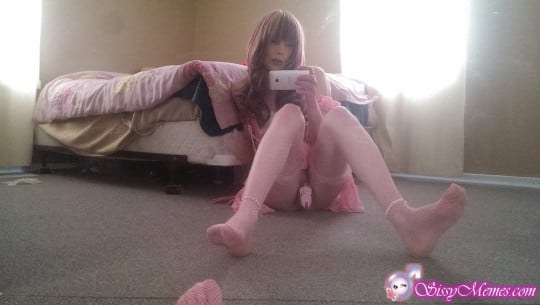 Femboy just prefers to blur the line between a guy and a girl, moving away from all old-fashioned stereotypes. And yes, I am a femboy who became a famous OnlyFans model a few years ago. I won't say that it was very simple, but it's not as difficult as building a successful career in any other field. And my main goal is to prove that being a femboy today is normal, and even fun.
A few words about me to begin with
Since childhood, I liked beautiful things, but most often they were "feminine". My sister's shiny tights, her cute hairpins, and colorful nail polishes. I liked how my mom does light makeup in the morning, and how she can create an incredibly chic image for an evening out.
They gave me toys for boys, and did hairstyles for boys, although I asked to leave a long bang, or make an asymmetrical haircut. I was about 7 years old, but I already knew that the world cannot be divided so simply into "male" and "female".
When I finally moved to college far from home, I was able to make myself bold hairstyles, and dye my hair (OMG, they were pink, white, and rainbow at that time!). I started going for manicures – I wanted to have soft, well-groomed hands. I chose the profession of a designer, and that's why my experiments with appearance did not particularly shock anyone, and most importantly – I was not alone!
A new party – new hobbies
As it turned out, many people liked the same things that I did at that time. But, I noticed that some guys went further – they even wanted to change their gender, make themselves women's boobs, and wear women's clothes. They gradually changed their identity. One of them suggested that I try myself at sissy captions – it was my design skills that helped me make beautiful creative pictures and select captions for them. We created comics and whole stories about sissy boys and their pretty hot adventures in the world of real men. 
One of the topics that the audience 100% liked was the topic of webcam models sissy. At the same time, I was told that I could try – after all, I became popular among both boys and girls.
Was I bi – maybe, because I don't like the gender of a person, but the person itself? I am delighted with beautiful women, but I am also attracted to men! I've had sex with both, and I like it. But, the sissy boys theme wasn't about me until the end, so I decided to try OnlyFans, but just like a femboy.
The main thing about working on a webcam
This is not about sex, but about communication – a webcam is always a story about people who want to feel comfortable. And sexual entertainment and mutual enjoyment on camera is a nice bonus. But, this is absolutely not 100% of the webcam model's job, and not even 80%.
Some guests immediately demand that I show them masturbation or penetration, and put toys into all the holes, but they usually come for 3-5, maximum 10 minutes. And they never come back, unlike those clients who want to get acquainted and communicate.
I even realized that in the conditions of a webcam session, I can be in charge and set the tone for communication – I can offer to chat and get acquainted. And when I see that my guest is getting comfortable in my company, I suggest moving on. Perhaps we should just start with fantasies and discuss them?
For many men and women, even talking about fantasies with a handsome guy on the other side of the screen is enough to get an orgasm. I can just take off my T-shirt, play with my nipples, caress my cock through the pants, while talking about my dreams, inventing stories…
I often think up real stories – I was in a club, dancing with friends when a gorgeous guy appeared who smiled at me. In fact, I was too fascinated by him at the time, and I had a girl with me who I liked too. And I didn't do anything, but… I could.
"He was smiling at me, and it seemed to me that he was beckoning me to follow him. I walked out of the crowd and followed him, and anticipation was spreading through my body. He was in front, but I could already feel his hands on my chest. And when he stopped abruptly in the hallway and came up to me himself, taking off his T-shirt, I already realized that I had fallen into his web. We didn't give our names, our hands explored each other's secrets, looking for sensitive places…"
From femboy memes writer to a famous sissy cam model
I've been in the webcam business for 3 years now, and I've become quite popular. I had a contract with a major studio, but I also have my own clients with whom I spend my free time. Now I no longer need the services of the studio, as I invested the money earned during the first year in the coolest technical innovations and toys. Yes, technology has a 90% success for web work.
And one more thing – I value my time and the time of my clients. If I'm not ready to do something, that's what I say – you'd better look for another web model, dear if you want to see it.
I also know how to separate work and personal life. I can cum on camera several times, really enjoying communicating with new people or old clients. But when it comes time for my date in reality with a person I like – I forget about the camera.
Yes, I have a stage image that helps me tune in, but it's just for the camera. I'm happy to work with both guys and girls – why not?
I think femboy culture has a right to exist if you feel that way. And webcam is a job that brings pleasure, and after – success comes, you get money and fame. I like the attention and words of admiration from men and women! I get energized every day when someone on the other side of the screen is moaning with delight looking at me, listening to me!
If you don't like jerking off to the camera and showing your ass with an anal plug in close-up, and you cry after your working day in front of the camera – dear, this job is not for you.
Success here directly depends on your own pleasure in the first place!